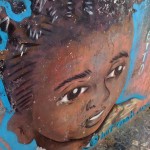 This is where you can learn about and view visual art and public displays that express or echo workers' voices and the notion of work in general.
From the historic and majestic to the latest wheat poster on a sidewalk, we do our best to chronicle the expressions of work and workers.
NEW! See the roundup of "Best Works of Art About Work" as a slide show here.